Announcements
October 5, 2022
MEDIA ADVISORY
Public Hearing: Youth Mental Health and Pennsylvania Rural Schools
What: The Center for Rural Pennsylvania Board of Directors will hold a public hearing on youth mental health and Pennsylvania rural schools to highlight some of the challenges Pennsylvania rural school leaders face in addressing the growing mental health crisis among youth.
Who:
The Center for Rural Pennsylvania Board of Directors
Senator Gene Yaw, Chairman
Representative Eddie Day Pashinski, Vice Chairman
Dr. Nancy Falvo, Clarion University of Pennsylvania, Secretary
Mr. Stephen M. Brame, Governor's Representative, Treasurer
Senator Katie J. Muth
Representative Dan Moul
Mr. Richard Esch, University of Pittsburgh
Dr. Timothy Kelsey, Pennsylvania State University
Ms. Shannon M. Munro, Pennsylvania College of Technology
Dr. Charles Patterson, Shippensburg University of Pennsylvania
Ms. Susan Snelick, Northern Pennsylvania Regional College
Mr. Darrin Youker, Governor's Representative
Presenters: Dr. Dana Milakovic, Mental Wellness and Trauma Specialist – Office for Safe Schools, Pennsylvania Department of Education; Michael D. Pennington, Executive Director, Pennsylvania Commission on Crime and Delinquency; Dr. Bernadette Boerckel, Chief Outreach Officer, Central Susquehanna Intermediate Unit; Dr. Erich May, Superintendent, Brookville Area School District; Michael Hopkins, President and CEO, Children's Service Center of the Wyoming Valley; Dawn Zieger, Associate Vice President, Department of Psychiatry and Behavioral Health, Geisinger Health System; Jody McCloud Missmer, Network Administrator, Behavioral Health, YESS! School-Based Therapy Program at St. Luke's University Health Network; and Amie Allanson-Dundon, Network Director for Clinical Therapy Services, YESS! School-Based Therapy Program at St. Luke's University Health Network
When: Wednesday, October 19, 2022, 8:30 am – 10 a.m.
Where: Capitol Building, Room 8E-B, East Wing, Harrisburg, Pa. Livestream: https://www.pasen.gov/Video/8e.cfm?room=b
Contact: Christine Caldara Piatos, Communications Manager, Center for Rural Pennsylvania, (717) 787-9555, caldarac@rural.pa.gov
---
August 9, 2022
Center Board Members, Executive Director Recognized as 2022 Pennsylvania Agriculture Power 100
Harrisburg, Pa. - Congratulations to Center for Rural Pennsylvania Board Chairman Sen. Gene Yaw, Vice Chairman Rep. Eddie Day Pashinski, and members Rep. Dan Moul and Darrin Youker, and Executive Director Dr. Kyle Kopko on being named among the 100 most influential people in Pennsylvania agriculture by City & State Pennsylvania.
Dr. Kopko said: "I'm humbled by this recognition, and especially honored to be among such an amazing and dedicated group of individuals. The agriculture industry is a driving force of Pennsylvania's economy and heritage. In my time at the Center, I've been fortunate to work with stakeholders across the Commonwealth to address a wide range of issues affecting the agriculture industry, including broadband access, workforce development, and zoning. The Center's Board of Directors, staff and I are all deeply committed to ensuring that agriculture in Pennsylvania continues to thrive for generations to come."
To see the full list of honorees, visit City & State Pennsylvania.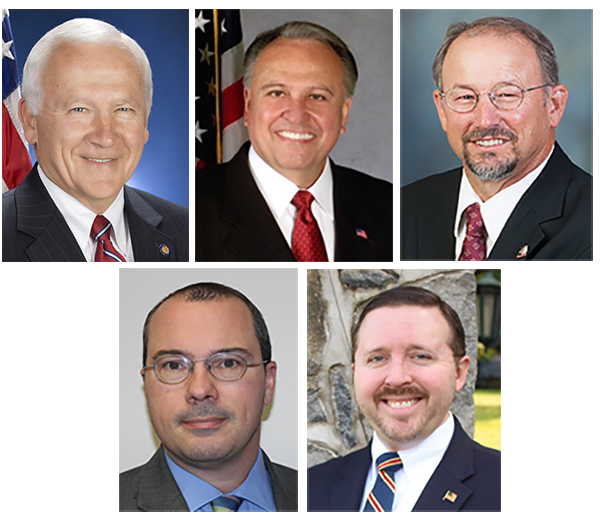 Top l to r: Sen. Yaw, Rep. Pashinski and Rep. Moul. Bottom l to r: Darrin Youker and Dr. Kyle Kopko
###
July 14, 2022
Center Executive Director Appointed to Governor's Rural Affairs Council
Harrisburg, PA - Executive Director Dr. Kyle C. Kopko has been appointed to the Governor's Advisory Council on Rural Affairs. The council includes representatives from local, state, and federal governments, nonprofit agencies, and the public sector. The council works to improve coordination and effectiveness of federal, state, and other programs affecting our state's rural areas.
"I'm honored to represent the Center on this advisory council," said Kopko. "The Center's mission and that of the Governor's Advisory Council are both focused on optimizing resources, relationships, and strategies to better serve our state's nearly 3.4 million rural residents. I look forward to working with our statewide partners to continue advancing our missions."
###